Elephant Nature Park
If you are reading this then you probably already know that Dan and I spent the past week with the Elephant Nature Park.
ENP is an awesome organization, started by a Thai woman named Lek.
When you get to Thailand (or Cambodia, or Lao, or Burma) there are advertisements EVERYWHERE for different elephant tourist attractions. You can feed them, you can bathe them, you can ride them.
Lek owned an elephant as a child which is probably where she developed her love for the animal.  As an adult she learned what methods people used to train elephants… and after that it was her life mission to create a safe haven for these amazing animals.
There aren't enough words to describe the torture and cruelty they endure. So please watch this video. It is hard to watch, but I think it is necessary to watch. Just be prepared.
**Check back for video** It isn't available on youtube or anywhere else due to copyright… and maybe because it's been blocked by the government here? The point is to spread the message so I'm not sure why the video isn't readily available and all over the internet.
I had no idea. I've been to the circus, I've riden the elephant at the Topsfield Fair. Just a few months ago I visited BuffelsDrift Game Lodge in South Africa for their Elephant Experience. It looked wonderful. Three elephants, getting fed lots of fruit, walking through acres of land and splashing around in a lake. There was no riding and not much fanfare. But, after learning about the Spirit Breaking I looked back on my photos from Buffles drift. Indeed the Mahouts (elephant handlers) do hold clubs. And, in one particular photo, taken at just the right instant… you can see a sharp nail. Usually they're so well hidden in the Mahout's hand, but this was a slip. I was horrified to know I'd participated in this torture. It seemed like such an ideal place for these animals, when in fact it was not. I hope that the Cango Wildlife Ranch will stop supporting this violence by not taking their volunteers there any more.
Now that we've established what this amazing place is and why it exists, I will tell you a little about the week Dan and I spent volunteering at the organization.
First thing you need to know is, it was great. DO IT, if you ever get the chance.
We decided it was more of an 'experience' than volunteering, which was fine in the end. The program we did was called Journey to Freedom. It was a location about 3 hours south from Chiang Mai (the ENP base is about an hour north of Chiang Mai) in a villiage of Karen people tucked away in the jungle. This amazing community is so rural and traditional, seemingly untouched by modernization and  technology. The villiage consists of about 200 people. They all work together to farm their land – growing lettuce, cabbage, rice… and the sweetest strawberries you've ever tasted. The community also owns some water buffalo, cows, and four elephants.
The two adults were once used for logging and tourism and the people of this town have lovingly retired them – allowing them to live a life in the jungle with no worry in the world. The town has built a relationship with ENP so a small group of volunteers come each week to learn about the elephants and the community. It provides them with some extra income, and help taking care of their elephants. And for us, it is a priceless opportunity.
Eight of us arrived via bus to camp. I have to say, I was nervous. We had no contact with anyone from ENP before the program started, and the web site was pretty vague. The things that stuck out to me were "cold shower," "no beds," and "vegetarian." Yikes. Luckily, it wasn't half as bad as it sounded. The camp had three basic huts for sleeping, a fire pit, a kitchen, a big communal table, and a bathroom/shower. We shared our hut with a nice couple form England. Dan and I had a little bug tent, with a mat and some blankets on a bamboo floor. It took a little getting used to… but actually wasn't as bad as I thought it would be. The hardest part was that the bathroom was outside, down the stairs (because the hut is on stilts) and a few steps away. Plus we all shared it. But really, even that wasn't so bad. The cold shower though, I'll admit, is something that I cannot get used to. I washed my hair once during the week and the rest of the time used wipes to freshen up. Nobody complained I smelled though, so I think it was fine 🙂 Or maybe they just couldn't say anything because they were all doing the same thing.
So on our first day, we set out on a short hike to go meet the elephants.  We walked through some rice pattys, through some jungle and came to an open area. We turned a corner on the trail and all of a sudden there were massive elephants that just came out of no where. Now, keep in mind we are in the middle of no where. There are no fences or gates anywhere. Just crops, fields, jungle and a small villiage a little ways away. Once the elephants spotted us, they came running. I mean, absolutely running. And if you've never seen four elephants charging at you, it's terrifying. But, as it turns out, they know that Monday brings a new group of volunteers… and volunteers bring bananas. So, they stopped just in front of us and sniffed us all over to find our goodies. They were gentle and friendly, and as soon as the feast was over, they walked back over to the trees where they had been grazing before we arrived.  We watched them for an hour or so, freezing in place when they came near us – adrenaline pumping.
There is nothing between you and the elephant. Each elephant has a Mahout, which is it's handler. In most places that means a person with a sharp hook, nail or other things that it uses to force the elephant to do what he says. Here, a Mahout is a trainer and guard. They have no weapons, no guns, no nails – just their lunch. They follow the elephants around all day, keeping an eye on them and making sure they don't eat the strawberries that the farmers have been growing. There is an incredible relationship built on trust between these men and these animals. The elephants are so smart and have learned many commands, just like your dog would. Come. Stop. Back Up. And more. With a soft nudge and instruction, these men keep these elephants company and cared for all day.
We would spend at least half of a day, hiking alongside the elephants in the jungle. Just watching and petting and feeding and playing. After a few hours we would typically go back to camp for lunch and then head to the local villiage to interact with some of the children. We were "teaching" them english, which basically meant playing tag and letting them goof around with my camera.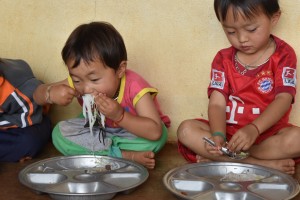 The people in Thailand are amazing. They all speak two languages, and most speak three. The kids in this village spoke Karon and Thai – and were learning English. Pretty impressive.
After hanging out with the kids, we went back to camp for dinner. Dinner was usually soup, rice, and yellow or green curry. Often it was supplemented with sauteed vegetables and there was fresh pineapple and watermelon for dessert. We had two guides, Johnny and Joe, who were also the cooks – and they were great.
Anyway, this has been a most long winded post.  Point is, elephants suffer far worse than you would ever expect… so do a little research and make educatied decisions about what activities you choose to do while on vacation. It was amazing to be able to spend so many hours, building a relationship with these wild animals in their natural environment with nothing between us.